What is an assignment?
Essentially, an assignment is a collection of sections and is used to create a FLOWmulti test or exam. Each section can contain one or more questions, tools or text sections and the test score for a section consists of the accumulated score of all the questions in that section.
You can access your assignments and published assignments from the Assignments tab in the Author-module. It is also the default view, when you go into the Author-module.
Creating a new assignment
To create a new assignment, click the New assignment-button on the assignment tab.
Enter the title. The description and tags are optional. And when all the information is added, click "Next" to proceed.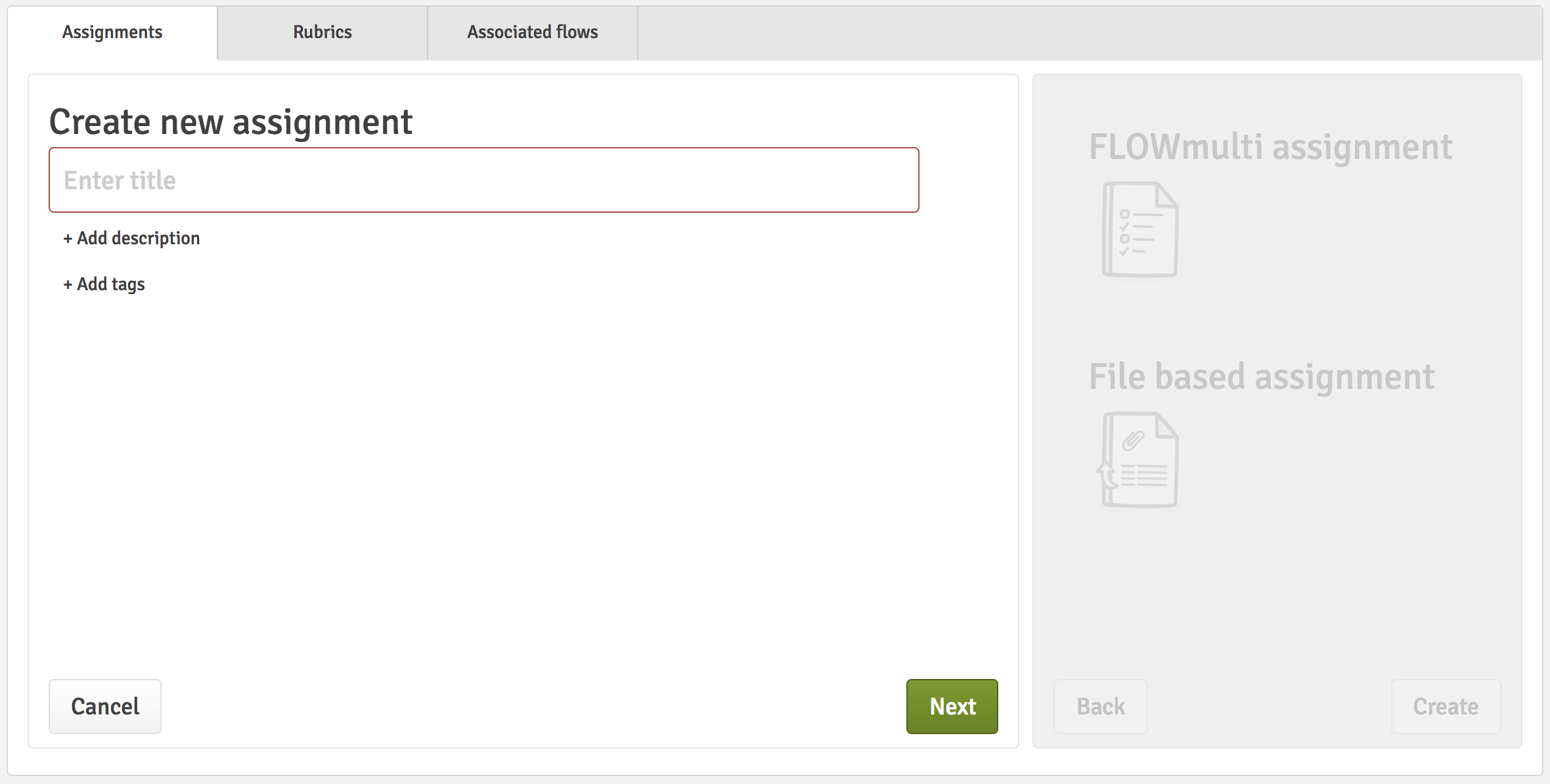 Choose between FLOWmulti assignment or File based assignment, and click "Create".
The new assignment is now listed at the top of your assignment list, open and ready for you to add sections or edit the assignment. You can add sections to the assignment by pressing the + "Add a section"-button and choosing whether to create a new standard MCQ, a custom question or from the "Content bank" (For more on the content bank, click here).

You can add more questions, text sections or tools to the section through the + "Add content to the section"-button and edit the section title by on the text to the right of the section number. For more on creating questions, see the articles: How to create a question and Question types.

To preview individual questions, sections or the whole activity, showing you how they will be presented to the participant, press the "eye"-buttons.
Publishing your assignment
When the assignment is fully edited to your liking, with section, questions etc., you must click "Publish" before you or anybody else can use the assignment in a flow. A preview of the question will appear and you must approve it before it is published.
Publishing an assignment will make it appear below in the section for published assignments. From here you can find (1) the reference code that allows you to add the question to a flow, and by clicking the name of the assignment you will copy the reference code to your computers clipboard. (2) Choose whether to keep the published activity private, share with some or the whole license.
Adding an assignment to a flow
As a manager you can add the assignment to a FLOWmulti, by going to To be handed out and clicking + "Add assignment". Here you add the reference code found in the "Published assignments".
As an "Author", if you are associated to a flow, you add an assignment to a flow through the "Associated flows"-tab. Here you can see the list of active flows, where you are assigned as an author and by clicking on one it will expand and you can now type in the reference and attach it or you can press the looking glass button to search for an assignment to add.