We are not immune
As the COVID-19 pandemic enters its second year, we at UNIwise have had to accept that we are not immune to its effects either. Luckily, only a few staff members and their families have been personally affected by the virus – but with the upcoming March release, we can now see the long-term effect it has had on us as a company and on our dedicated staff.
To be honest, the March release is not our proudest moment; we don't take the same pride in this release as we normally would. Even though everyone has been working hard – we've been fortunate enough to be able to keep up work, support and development with lockdowns still in force – we must also admit that we haven't been able to maintain the same standard and velocity as in previous years. This is not due to human error but simply the consequence of staff working from home while home-schooling on the side, it being more difficult to coordinate while everyone is isolated at home and a year of concern for friends and family. Add to this a larger internal reorganisation to support and better cater for our customers during development work, a lot of onboarding of new staff and an early development response to help many institutions in the light of the pandemic – and we have a perfect storm.
As a consequence, this March release is not as rich as expected and previously communicated. We apologise for this. We have been forced to postpone planned projects and some features and user stories within some of the projects we have released. This is simply related to lack of hours and wanting to be sure that everything we release makes the cut when it comes to quality assurance.
For full transparency, listed below are all items taken out of the March 2021 release:
FLOWoral pre-allocation enhancement

Entire project (rescheduled for October 2021)

FLOWseries Portfolio

Rubrics-based assessment + Rubrics on FLOWmulti
Release feedback prior to assessment deadline
Select subset of flows for assessment
Licence setting for explanation request support on sub-flows

Author Tool v2

Flow versions being used on flows
Tagging
Co-authoring safeguards/live updating

Accessibility

Consistent implementation of text alternatives to non-text content, contrast ratio & page title (rescheduled for October 2021)
We will, of course, maintain our focus and work full throttle to catch up – and over the next couple of weeks, we'll try to re-plan for the missing items to be added in minor releases in April and July. We will announce this at a later stage.
However disappointing this is for us all, we hope for your understanding and promise to work hard for your continued confidence and support.
Thank you,
Steffen & Rasmus
___________________________________________________________
Beta status
With this announcement, we're releasing a new authoring environment to production – but in beta status – that sits alongside the existing authoring tool. Practically, this means that the user will have access to the existing authoring tool as usual but is also offered the possibility of a sneak peek and try out of the new authoring environment from within the existing one.
The beta status also indicates that the new authoring environment is not a finished tool but rather needs further, planned development. However, we think it's beneficial to engage users directly and provide a longer and smoother transition. The end goal is to replace the existing tool with the new one, giving all users a new and better authoring experience. Our plan is that by the next release – in October 2021 – we'll be able to push the new authoring environment to full production and deprecate the current solution, having it sit along the new tool for a period, before fully taking it out of production and securing a good transition.
We will continue to develop the environment of the beta module and push updates on a more frequent basis, as this will not affect the existing authoring tool. The user will experience changes over time but might also find issues or unintended behaviour along the way before the module is ready for full production. While in beta, we invite users to report these issues using our existing ITIL ticket system through Zendesk. We will respond accordingly while reserving the right not to push fixes right away every time but in correspondence with planned development updates on the beta module.
This method of pushing modules into beta before full production is a method that UNIwise will engage in more frequently going forward where possible, especially for larger new modules or ones planned to replace existing modules. By working in this way, we hope to secure a better transition and, more importantly, more in-depth engagement with users, as we welcome feedback in the beta period. We hope you share our positive view of this way of working and look forward to engaging with you.
___________________________________________________________
We are releasing a new version of WISEflow v2021.1 on the 5th of March 2021. This article will be updated continuously until the release. All guides relating to the new features will be published after the release.
The first major update of WISEflow in 2021 introduces a long-awaited extension to the FLOWseries module catering for more formative exam processes and portfolio assessment and also reveals the early features of the first project from the feature team UK - the new Author Tool v2 (beta).
The release also comes with a safe-guarding feature of flagging flows for deletion instead of instantly wiping them from the database, a new, modernised WISEflow landing page, the first implementations from our ongoing accessibility project and some general improvements to timed duration.
Last but not least, it introduces the concept testing of Third-Party Support in locked down flows, which for technical and practical reasons is not deployed to production with the actual release but kept in the QA environment throughout the spring. This is due to licensing issues and required work by institutions to set-up custom instances, which mean it is better to confine testing and refinement to a non-production environment.
The following features will be included in the new version of WISEflow:
Manager
Licence administrator
Author
API
Minor adjustments and improvements
___________________________________________________________
FLOWlock browser versions
The new version contains important updates and is available in WISEflow. The new version is:
Windows: 2.0.7.00
MacOS: 2.0.7.01
This version will be required from the 12th of March. In the following weeks, you will receive reminders about updating the browser version.
___________________________________________________________
Release webinars
We're hosting webinars to run through all the significant features in this release.
Recording from the Danish webinar
Share the video here: https://vimeo.com/521831248
Recording from the English webinar
Share the video here: https://vimeo.com/521544139
Recording from the Norwegian webinar
Share the video here: https://vimeo.com/521549844
___________________________________________________________
Manager
FLOWseries - New Portfolio variants
So far, the FLOWseries module has focused on qualifying participants to a final (exam) flow by letting them through a set of sub-flows with defined requirements, ie. minimum grades. With the March release, two new variants of FLOWseries are introduced that switch attention from qualification as end goal to a final (aggregated) mark as end goal.
Figure: Creating a FLOWseries portfolio flow
The portfolio variants cater for a process where a set of sub-flows can be added to the series and then either be assessed by assessors freely (using comments, rubrics, personal grades) or strictly enforcing the use of rubrics to provide each participant with final and submitted points per flow.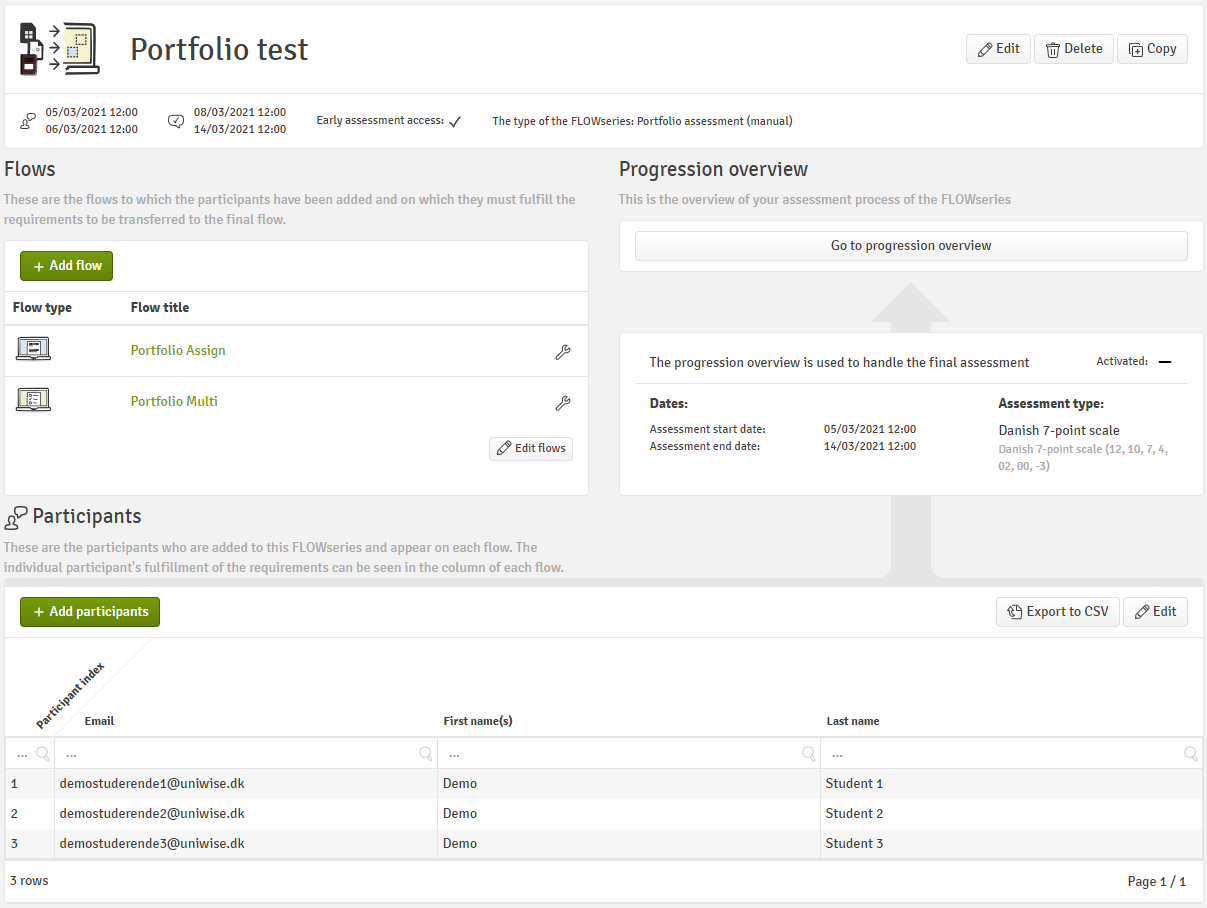 Figure: The FLOWseries portfolio overview
The assessor is provided with a new scoreboard overview of the series whereby the assessment of each participant on each sub-flow is displayed side by side and easily accessed. In the flexible/freely variant, the assessor manually figures out the appropriate final mark from this overview. In the rubric-based variant, the sum of the points from each flow is submitted and the manager can map the final sum of points into a (more formal) final grade.
Figure: Managing the grades in the new scoreboard
As a sub-project, a new general flow setting has been introduced which allows you to toggle whether or not similarity detection should be enabled on the flow, defaulting to being disabled on portfolio sub-flows.
The portfolio feature is released in its first version and has been developed in collaboration with UNIT in Norway. It is planned that several iterations will come with later releases, introducing more elaborated rubric-based assessment, more flexible participant feedback and more detailed setup of the desired portfolio workflow.
Third-party support in locked down browser
This release introduces the concept of third-party applications made available to the participant within the FLOWlock browser but accessed remotely (through a tab in the browser). Hereby the application is native and familiar to the participant but controlled and monitored by the institution/WISEflow (ie. blocking access to the internet from the remote instance). Content produced in the remote application can be attached as appendix material to the flow as with any other content produced in the appendix manager.
Obviously, there are cons to this approach in terms of remote lagging and full online dependency, but it bridges a gap to certain edge case exam scenarios that can not be digitally supported as per today.
Note: This feature is only in the QA environment. This is due to licensing issues and required work by institutions to set-up custom instances, which mean it is better to confine testing and refinement to a non-production environment.
The feature has been developed in collaboration with UNIT in Norway. The institution setup, testing and refinement are for various practical reasons kept in a sub-production environment and the module is thus initially not available beyond the partner institutions in Norway.
___________________________________________________________
Licence administrator
Licence Maintenance and flow deletion
New functionality has been built around the deletion of flows and the continuous (self/auto) maintenance of deprecated users and long archived flows.
Firstly, a new state has been added to flows: a "pending deletion" state. Thus, when a manager deletes a flow as she used to, it is not entirely removed from the database, but effectively just flagged for deletion. To all related users (and the manager), it should appear as if it was deleted, but the licence admin now has the opportunity to restore the flow back to its original state from a new flow deprecation tool.
Figure: The main site for deleted flows
Furthermore, the flow deprecation tool comes with some licence settings able to define both when the flagged flows should be automatically deleted and whether archived flows older than a given time range should be automatically flagged for deletion. This provides the opportunity for setting up your licence with automatic retention of flows.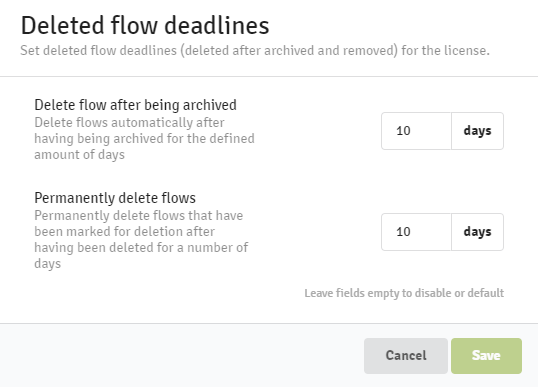 Figure: How to manage the deleted flow settings by "Edit licence deadlines"
Finally, the idea is that if you remove old legacy flows, you can effectively manage your users, too. The bulk user management has been expanded with an export functionality that makes it possible to extract all users that are not related to flows anymore. Those can "safely be deleted" from the licence, as no relevant data will be present on those users. In an addition to user information, the system will now also display when a user was created and they last logged in.
Figure: Export users that are not a part of a flow
This feature has been developed in collaboration with the Danish University College Sector which has been using WISEflow at production scale for almost a decade. It enables customers to handle large-scale operation (and eventual mishaps) without the dependency on UNIwise support and takes WISEflow in a more "assessment engine" direction.
___________________________________________________________
Author
New Author Tool v2 (beta)
The first output from our feature team UK is being put into production with this release and is the result of a complete rework of the authoring experience and underlying architecture. The existing author tool has had revamps but has generally been building on the original architecture using lower-level Learnosity APIs and juggling data locally.
Figure: Link to the Author beta tool
Figure: Main site for the Author beta tool
The new Author Tool v2 (beta) has been built from scratch, aligned both with the newest top-level Learnosity APIs and with all the experience gained from our long partnership with Learnosity. This comes with a whole range of new possibilities and allows us to tap much more directly in to the development work done by Learnosity. For a start, it comes with the following benefits:
Author groups allowing for true co authoring of content and assignments between a defined set of authors
Item level layout, data sets and configuration based on the Learnosity Author API
Intact relation between content bank sections and assignments using them allowing for centrally managed changes to sections automatically propagating to assignments
The fundamentals mentioned above furthermore also paves the road towards more elaborate and exciting features like rich cross assignment item analysis and improvement, quality assurance processes through author groups and centralised tagging, which was not technically doable in the existing tool.
Figure: Created Assignment
Figure: Adding a new question to the section
The roll-out of the new author tool in WISEflow will follow a new and more gradual track than features used to follow, as authoring in WISEflow is a vital part of the exam preparation process and thus not eligible for an "overnight swap". As such, the beta state opens up a more iterative release cycle, which should result in new author sub-features being released continuously as long as it is in beta.
Note: The new Author tool v2 is a beta version. You can read more about how this affect your work and communication with UNIwise in the Beta status description.
The new author tool has been built as an independent full-stack service with a well-defined interface to WISEflow adapting to central authorisation and UI services. This makes it possible to develop new (supporting) features to WISEflow without the complexity of running WISEflow locally while developing and intertwining code with the main WISEflow repository. It is the plan to proceed with this approach in other areas of WISEflow and in so doing, simplify the development & maintenance of WISEflow in general over time.
___________________________________________________________
API
New user endpoint
Our public API is continuously being expanded to support new ways for institutions to integrate WISEflow into their system landscape. A new endpoint for create and update a user has been added. The endpoint is located in our API documentation under Licence.
___________________________________________________________
Minor adjustments and improvements
Timed duration on FLOWassign and FLOWhandin
Timed duration is now available on FLOWassign and FLOWhandin and thereby applicable to all "participant submitting" flow types.
If you missed this functionality from our previous release, then you can find it here.
Accessibility enhancement
The first milestone of the ongoing accessibility enhancement project has been partly implemented, focusing on text alternatives to non-text content (ie. text to screen readers on buttons only containing an icon).
The project is run in tight collaboration with Open University and aims to address and improve six different accessibility areas.
New WISEflow landing page
Last but not least, the general landing page has been modernised into a simpler design, decoupling it from the uniwise.co.uk website and adding more institutional flavour to the subdomain login pages.
Figure: WISEflow landing page