We have composed a list of articles with tips on file based assessments (i.e. FLOWassign and FLOWhandin). Please also refer to our troubleshooting guide for FLOWassign and FLOWhandin.
PDF Documents
How to Convert a File to a PDF
When using FLOWassign, the submission you upload to WISEflow must be a PDF file. This makes it impossible to change the content and formatting of the paper, therefore your markers will see exactly the same view of your submission that you uploaded. Links in the PDF will not be shown in WISEflow. We recommend writing links in plain text (e.g. "http://www.wiseflow.dk" for references).
Here you can find more information on how to convert a file into a PDF. You can also convert a file into a PDF directly on Adobe's website.
If you want to add digital material to supplement your exam paper (film, sound recordings, programmes, etc.), you should upload this material as "Appendix material."
Large PDF files may result in long upload times or may even be rejected by WISEflow if the file size is larger than the permitted limit for the flow. One way to help avoid such issues is to compress your PDF. The process of compressing a PDF is simple and can result in dramatically reduced file sizes. Here is more information on how to compress a PDF.
How to Upload a Paper directly from Dropbox
If you store your files in Dropbox, you have the option to upload your paper or appendix material to WISEflow directly from Dropbox. This is useful for big files (e.g. video, sound bites or large numbers of images).
Click the menu next to the button Upload and choose From Dropbox. (Please make sure your computer is not blocking pop-up windows on this page):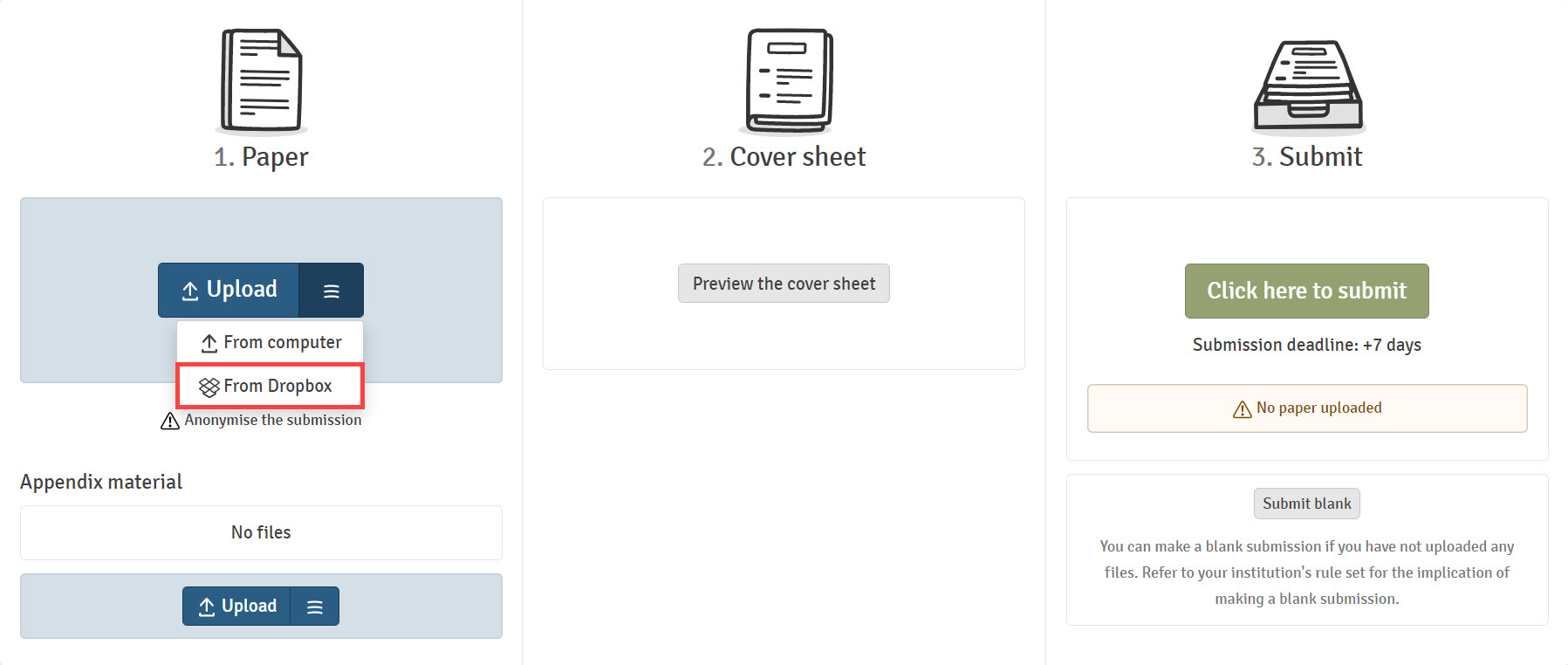 The following page is opened in a pop-up window. If you are not logged in, log in to your Dropbox-account:
Other File Types
How to Prepare Videos that can be Played in WISEflow
WISEflow can play videos handed in as appendix material if they are encoded in a video format that is supported by the browser. The ideal format is to have your video in the H.264/MPEG-4 format (MP4) and uploaded as an mp4 file. It is a standard web format, and it can be selected as the output from the most recent video applications and online services such as YouTube and Vimeo.
If you need to upload a video as appendix material with your paper in WISEflow, and your video is not in the MP4 format, you can follow these instructions to convert it. The instructions work for Windows and Mac. The example below is with Mac, but Windows is very similar.
Download and install VLC media player. This is a free video player which is compatible with most existing video formats.
Open VLC. The look of the program can differ based on the version of the program and your operating system, but the functionality is mostly the same.
Click on File and press Convert / Stream. You can also press SHIFT-CMD-S (CTRL-R for Windows).

Open the video file that you want to convert (Open media... on Mac, Add on Windows). Select Video - H.264 + MP3 (MP4) in the drop-down menu.
Press Save as File and select a name for the new file and where you want to save the video.
Press Save in the bottom right corner to convert the video.
Info
Large video files (+500 Mb) may produce an internal server error when trying to upload them.
Guide: How to reduce the file size of a video
Follow the instructions below to compress the video file size. As a general rule, when the video is compressed, if one minute corresponds to 4-5 Mb, then you do not compromise the quality of the video significantly.
Download and install the program Handbrake (free) on your computer (https://handbrake.fr/downloads.php)
Open Handbrake. The look of the program can differ based on the version of the program and your operating system, but the functionality is the same.
In Handbrake: Click on Source and choose Video File:

Choose the clip that you wish to convert and click OK.
Check the box called Web optimized below the path of the saved file. In the pane Video choose Average Bitrate and set it to 750 (the bigger the number the better the quality and the bigger the file size).


Click Browse and choose where the new file should be saved.

Click Start to begin converting (Note: The conversion can take a while depending on your computer).

When the conversion is done, there will be a mp4-file where you chose to save it.
This file can be uploaded under Appendix material.
You can play the file directly in WISEflow by clicking the file name under Appendix Material.
Info
Conversion errors might occur, which will first appear when uploaded to WISEflow. Always remember to preview your work in WISEflow to check for errors before handing it in.