Flow versions are snapshots of existing assignments that can be used on flows. When changes are made to an assignment, a new flow version has to be created and attached to a flow.
Authors can create and publish rubrics. The section Creating Rubrics will explain the creation of rubrics in more detail. Publishing a rubric will create a final version that can no longer be edited and is ready for use on flows. Unpublished rubrics cannot be used on flows.
Publishing Assignments
Creating a New Flow Version
Flow versions allow you to create a reference that can be added to a flow. Every time you make changes to your assignment you are then able to create a new flow version. The reference code that you can find on your main assignment page or in the assignment list is the latest flow version.
Access your flow version section
Create a new flow version of the assignment
Add notes for the specific flow version
It is not possible to create a flow version if the assignment contains no or incomplete items.
When deleting an assignment, all associated flow versions will also be deleted.
Existing Flow Version
After you create a new flow version, you will be presented with a flow version reference (1). Most of the flow version remains unchangeable (e.g. question stem, answer options, item settings, etc.) but you can edit items versions to change the scoring or validation. The article Adjusting Scoring or Validation of Flow Version Items (Item Versions) explains this in more detail.
Clicking To the original assignment will take you back to the main assignment where you can make further edits and create new flow versions.
Flow version reference, clicking will add the reference to your clip board
See a list of all flow versions associated with this assignment
If an assignment is deleted which is associated with a flow, the assignment on the flow will not be affected.
Viewing All Versions
If you select See version list you will see the above window.
How many versions have been created
Edit columns in the preview table
Open a specific flow version
You cannot edit a previous assignment version but can create a copy to edit. The copy will have no link to your previous versions and will act as a new stand alone assignment.
Accessing Current Flow Reference
When you are inside your assignment, you can access the current flow version reference by clicking on Flow versions and clicking on the reference code. This will add the reference to your clipboard. How to add the reference to a flow that you have been associated with as an author is explained in the article Attaching Assignments and Rubrics to Flows.
You can also copy the current reference code of your assignment directly from your assignment list.
Publishing Rubrics
When you have added all necessary items, changed the settings to your need, and, if needed, added a grade scaler, you are ready to publish the rubric.
Clicking Publish on your rubric allows you to preview the version of your rubric (and your grade scalers) that is shown to the assessor or manager and make your rubric accessible to flows.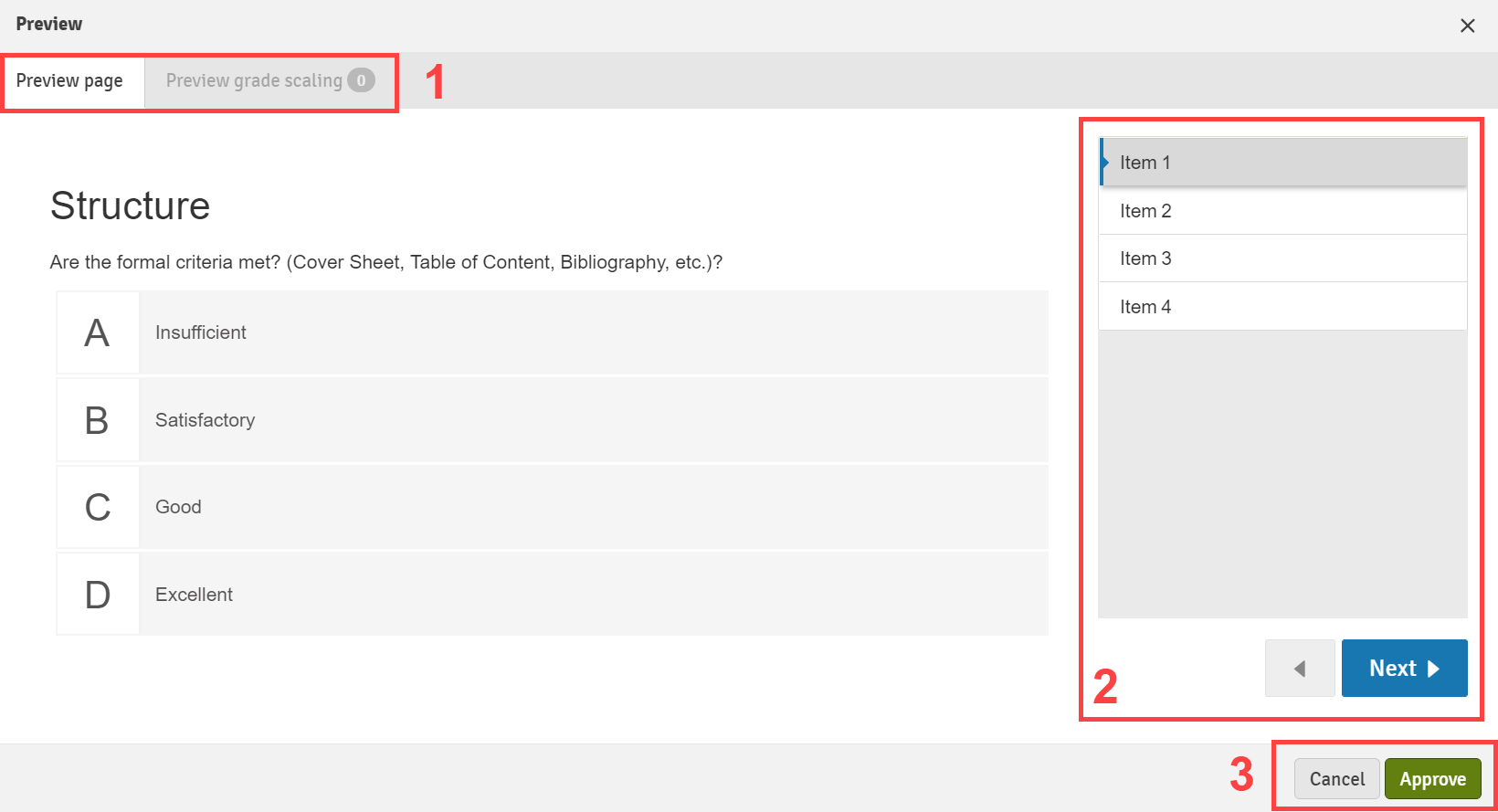 Switch between preview of the items or the grade scalers.
Custom Rubric only: See next item.
When you have reviewed your rubric, click Approve to publish the rubric.
The published rubrics will show up in the published rubrics list at the bottom of the page.
Click the rubric name to quickly copy the reference ID to add the rubric to a flow.
As a default rubrics are initially not shared with anyone. You can decide to either share a rubric with everyone on the licence (All) or share with specific authors (Shared).
The icon indicates whether the content, i.e. rubric, is owned by you or someone else (initials will be shown).
Preview the published rubric or use one of the actions: