Only users with the managing role can create new flows. By clicking on
at the top right of the corner, you will be brought to the flow creation page.
The three-striped symbol next to the create button gives you the option to create a single flow or a Flowcombine or FLOWseries.
Choose the source:
You will create a flow from scratch.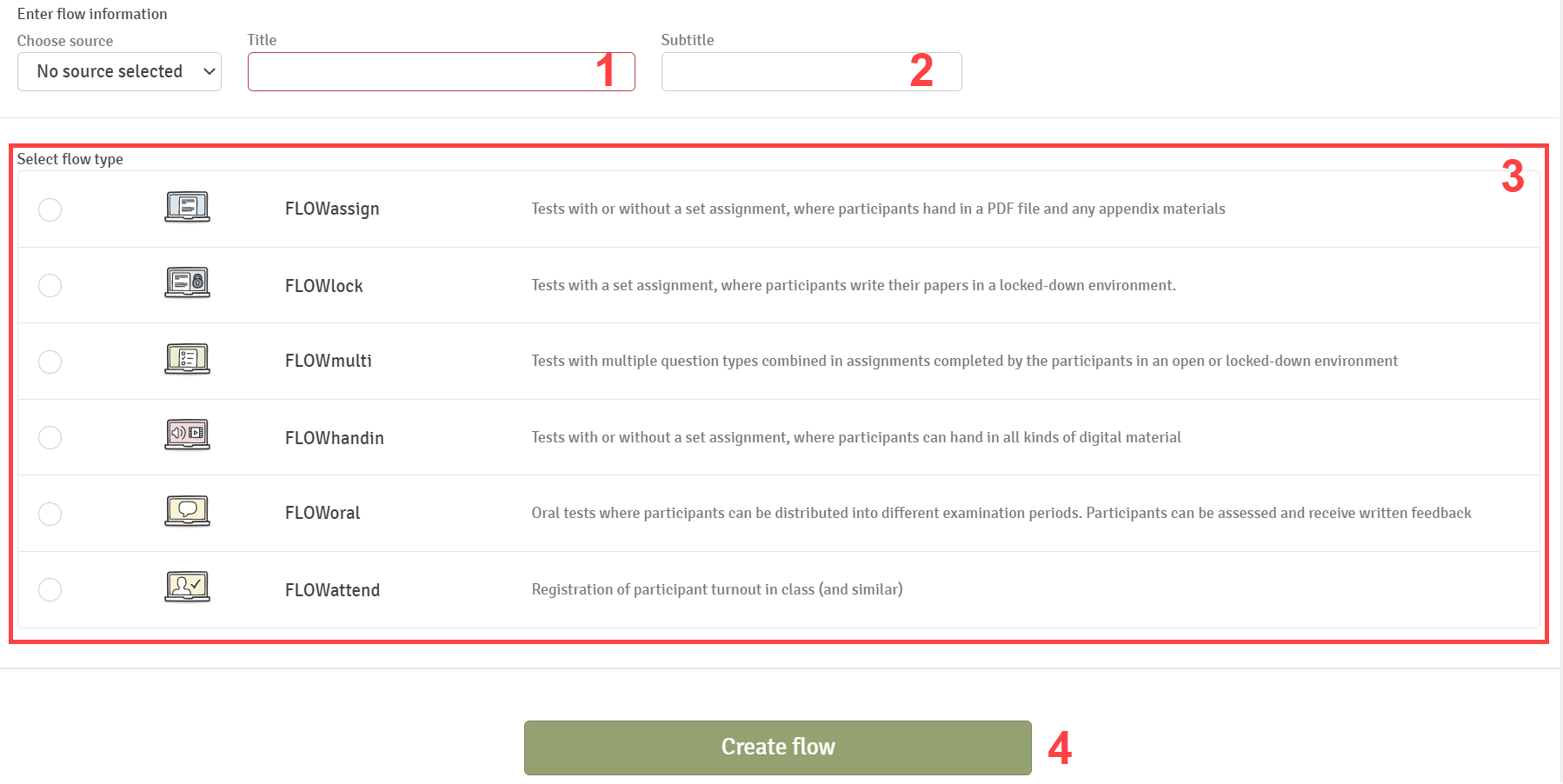 Enter a title for the flow. This field is mandatory when creating a new flow.
Add a subtitle.
Select the flow type that suits the needs of the exam. Note that the flow type cannot be changed after a flow has been created. Review the Key Concepts in WISEflow in the article about the different flow types.
When you have entered a title and selected a flow type, the button Create flow can be selected.
You can search through a list of flows or enter a a flow ID number of a flow that you have already created on your licence.
When you have chosen an existing flow, you will be able to use the information of the source flow and create a copy with amended existing information. Making a copy of a flow is also available directly from the header of a flow page.
You cannot change the flow type but you can change all other information from the source flow. See Copying a Flow.
If the WISEflow licence is integrated with a student information system, the manager can create flows using data from the system. For more information, review the
WISEflow SIS Integration
article
Copying a Flow
In addition to creating a flow and using an existing flow in WISEflow as the source data, it is also possible for a manager to copy a flow directly from within the flow.
You can then select the information you wish to be copied to the flow:
Flow settings
Settings
Dates

Start date for participants
End date for participants
Start of marking period
End of marking period

Cover sheet

An identical cover sheet will be created including any customised fields
Relations
Participants
Assessors
Managers
Authors
Reviewers
Invigilators
Relation Settings
Groups

Any groups of participants will be created including the group names

Assigned assessors

The allocation of assessors to participants is copied

Assigned reviewers

The allocation of reviewers to participants is copied
Content
Assignments

Assignments and any appendix material is copied

Individual assignments
Additional assessment material
Rubrics